Spring 2014: I am pleased to announce two simultaneous Early Spring displays at the Norway Savings Bank branches in Freeport and in Yarmouth.  I have chosen paintings from the Gather/Shatter Series, the Visible Song Series, The Four Seasons, and water media improvisations invoking the Animal and Plant Kingdoms.
Two of these paintings appear here. "Ascent" awakens us to the surging power of Spring.  "Nasturtium Lilt" tunes us to the dancing spirit within each flower.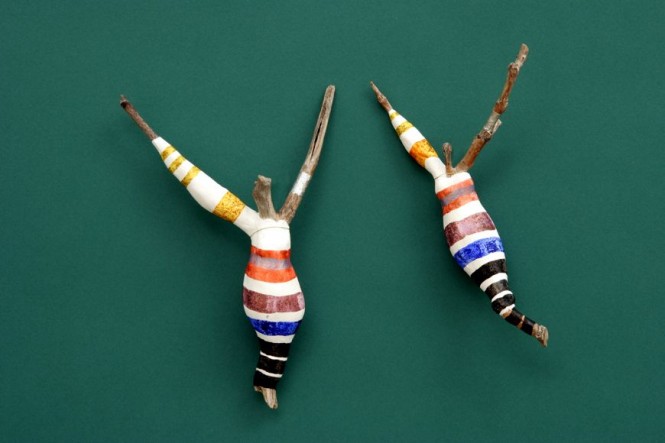 Twins, The Soul and The Spirit, 12″ x 8″ each, 2007
Following its debut in Neuchatel, Switzerland, a second exhibition of "Worlds Of Inspiration II", accompanied by nine Tree Sculptures, opened at Seidlstrasse 4 Galerie & Cantina, Murnau, Germany. Visual art is revered and openings enthusiastically attended in Europe.
Many artists have flourished within the timeless beauty of this compelling place. In the early days of 20th century abstraction, vibrant, color-flooded works were inspired and painted in Murnau by Gabriele Munter, August Macke, Franz Marc, Alexej von Jawlensky, Marianne von Werefkin, Wassily Kandinsky, and Paul Klee. I felt a deep kinship with the dynamic forms and passionate colors of Der Blaue Reiter.  I felt a timeless affinity with Murnau: its buildings, orderly shops, mountains, and open fields.
NOTE: Images of "Worlds of Inspiration II" and Tree Sculptures, can be found on this site under Selected Works.
Read on @  http://www.galerie-murnau.de/Ausstellung-2014-1.pdf
About "Worlds of Inspiration II":

They made me feel that the Universe has such beauty

They are fresh, celestial, upbeat, and full of nature."

~ Rosemary Jenseth, Filmaker